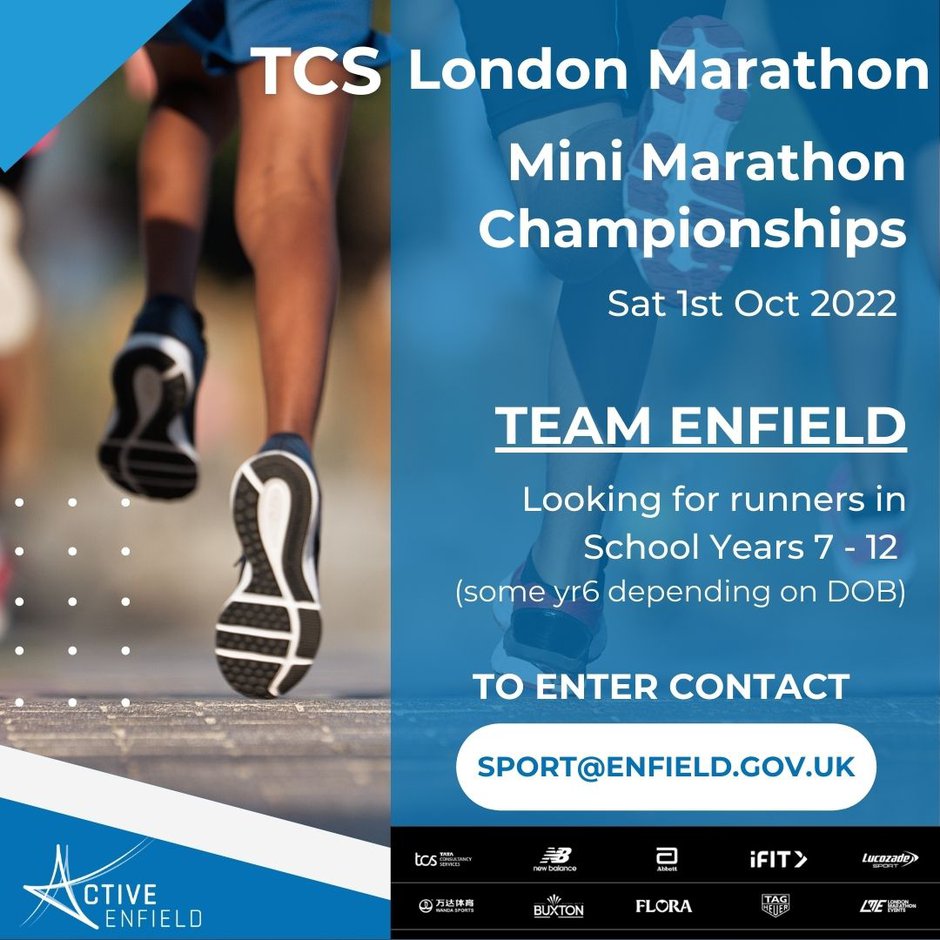 We're committed to supporting distance running from playground to podium – which is why the TCS Mini London Marathon championships were back with a bang in 2022!
The children and young people who took part in the championships last year were the first to cross the famous TCS London Marathon Finish Line in 2022, finishing even before the adult elites – that's because the event took place the day before the TCS London Marathon.
The TCS Mini London Marathon championships will return on Saturday 22 April 2023, so watch this space for details.
TCS Mini London Marathon championships age groups
The age groups for the 2023 TCS Mini Marathon championships are:
Under-13 Boys and Girls (Years 7 and 8)
Under-15 Boys and Girls (Years 9 and 10)
Under-17 Boys and Girls (Years 11 and 12)
Each London borough can have a maximum of 6 boys and 6 girls in each age group.
How to enter and run for Enfield
We will choose the team to represent Enfield based on the quickest times for a 5km Parkrun. To be able to represent Enfield, you need to either live, were born in or go to school in the Borough of Enfield. To submit your interest in being part of Team Enfield, you need to do the following;
Step 1 - Register and attend at least one Parkrun event (doesn't have to be in Enfield but must be a Parkrun and not Junior Parkrun). Parkruns take place every Saturday at 9am.
Step 2 – Complete the registration form and parental consent form via the link below, and include your quickest time achieved in a Parkrun before the closing date. Please stipulate, the date and the venue of your fastest run and the time achieved (only runs recorded within a year of the event date will be eligible). Entry form:
Step 3 - All submitted forms will be assessed and verified before selection letters sent out. We will select 6 in each category with 3 reserves.
If you are interested in representing Team Enfield please submit completed entry forms with your best time for a Parkrun by 9am on Monday 6th March 2023. We will then contact you to confirm if you have been selected or not and to provide further information for those selected.
Any queries please contact us on sport@enfield.gov.uk